Planbook for Mac User Guide
From Planbook for Mac Documentation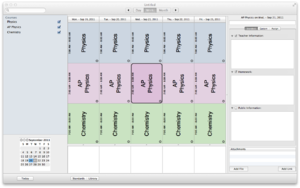 Planbook for Mac
is an app designed to enable educators to manage their lesson plans using an elegant, sophisticated application. Planbook is used by thousands of K-12 Teachers, College Professors, and Homeschool parents. Planbook is available for sale directly from
http://www.hellmansoft.com
or from the
Mac App Store
.
Generous site license
pricing is also available.
Below, please find the latest user guide for Planbook. If you prefer a printer or PDF version of this document, please use the print/export options on the left side of the screen. Any page may be printed and the entire book is also available as one large HTML page or as a PDF file. Please don't hesitate to contact me at jeff@hellmansoft.com with any questions.
Good luck and happy planning!
--Jeff Hellman (jeff@hellmansoft.com)
What's New
How To Get More Help
Getting Started with Planbook
Adjusting Your Schedule
Managing your Lessons and Days
Managing your Courses
Tracking Standards
Categorizing and Reusing your Plans
Printing, Emailing and Creating PDFs of your Plans
Making your Plans Available on the Internet
Planbook Preferences